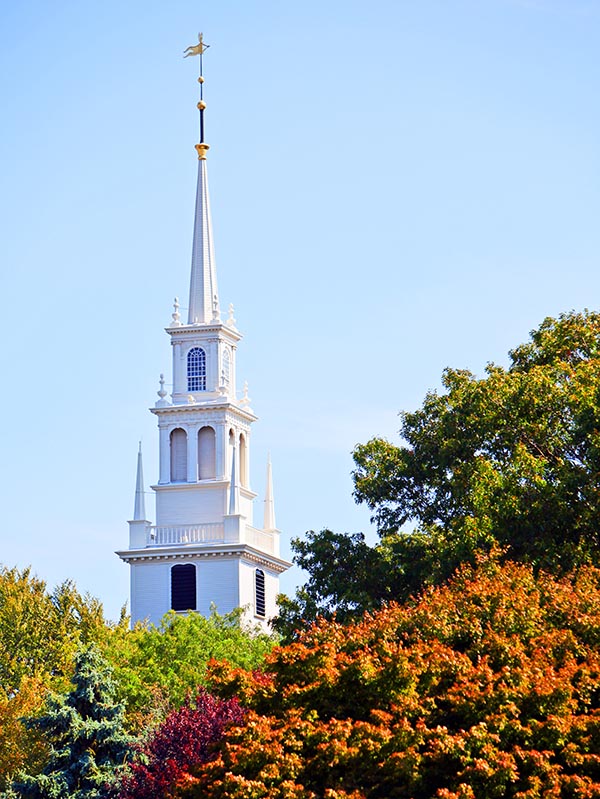 Options for Church Steeple
Replacement and Repair
Church Specialties offers unique options for church steeple replacement, repair or renovation. Our vast experience in the field enables us to make referrals to qualified companies who perform maintenance and repairs to existing steeples and belfries. We work with you to develop the right combination of products and services that best meet your needs. Sometimes replacing the entire church steeple with a prefabricated maintenance-free steeple to match the deteriorated steeple is the best alternative. Our goal is always to help you find the solution that best fits your goals and budget.
Prefabricted Church Steeple Replacements
Provide Flexibility
We work closely with the foremost builders of custom prefabricated steeples in the US, specializing in faithfully detailed, historic reproductions in durable, maintenance-free aluminum, copper, or steel.
We will help you in every phase of your church steeple replacement project, including:
church steeple design
church steeple fabrication
church steeple delivery, and
church steeple installation
At no charge, we will gladly furnish you with an artist's rendering of your church, illustrating various steeple design options. Whether your project is new or a historic reproduction steeple, we can build it for you. Ask about our many references from installations completed during the last four decades.
We can arrange to reproduce any associated steeple elements such as crosses, domes, cornices, balustrades and louvers. These can be furnished alone (for installation on your existing steeple) or with a new church steeple.
View some of our Steeple Restoration Projects Below
Reproduction of Original Steeple
Noroton Presbyterian Church
Darien, Connecticut
The original steeple needed painting again. The wood was deteriorating and paint was peeling. The solution was a replacement steeple fabricated using modern materials while maintaining the original design. Working from photographs, original blueprints, and on-site survey the existing church steeple was faithfully reproduced.
The new steeple is 16′ wide and 80′ tall. The louvers are functional and backed with insect screen.
As a matter of record, over 50 years ago, Church Specialties provided the tower clock dial, and time piece.
Historic Steeple Design & Replacement
First Presbyterian Church
Greenwich, Connecticut
Traditional Steeple (101′ tall x 20′ wide) features Decorative Scrolls, Cornices, Columns & Louvers.
This elegant steeple was designed by the architectural firm of Mark B. Thompson Associates, LLC of Philadelphia, PA. The contractor was A. Papa John Company of Stamford, CT. The custom steeple was fabricated with a 36′ internal structural steel tube framework engineered by Campbellsville Industries to meet current building code requirements, with a secondary structural and architectural aluminum framework. The exterior cladding is fabricatd by Campbellsville artisans using .032″ aluminum, with a baked-on Kynar finish.
The steeple was fabricated in Campbellsville's plant in Campbellsville, KY. It was then transported to the church on custom designed trailers. The two lower sections were assembled on the ground, hoisted into position and stacked one on the other. The spire was set on top and the cross installed by the crew from a man bucket.
The steeple houses a Chime Master Systems Millennium carillon for the ringing of bells and beautiful hymns throughout the year.
All of our work and materials are guaranteed!
We are happy to set up an appointment to visit your church and provide you with a complete, guaranteed written estimate.
We can provide many testimonials about our previous work performed on hundreds of churches throughout the United States.
Email us at Joe@churchspecialtiesllc.com or click on the button below to use our main contact form if you would like to learn about all our full suite of services.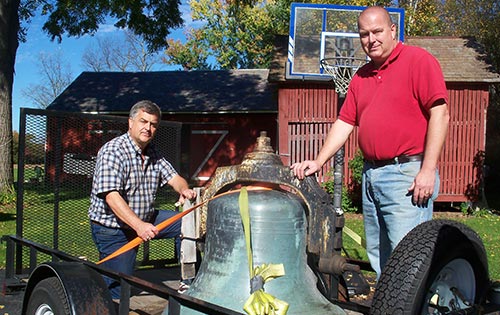 888-570-1042 – Call for a Free Estimate
At Church Specialties, we always provide free estimates and property visits so we can understand your needs exactly.